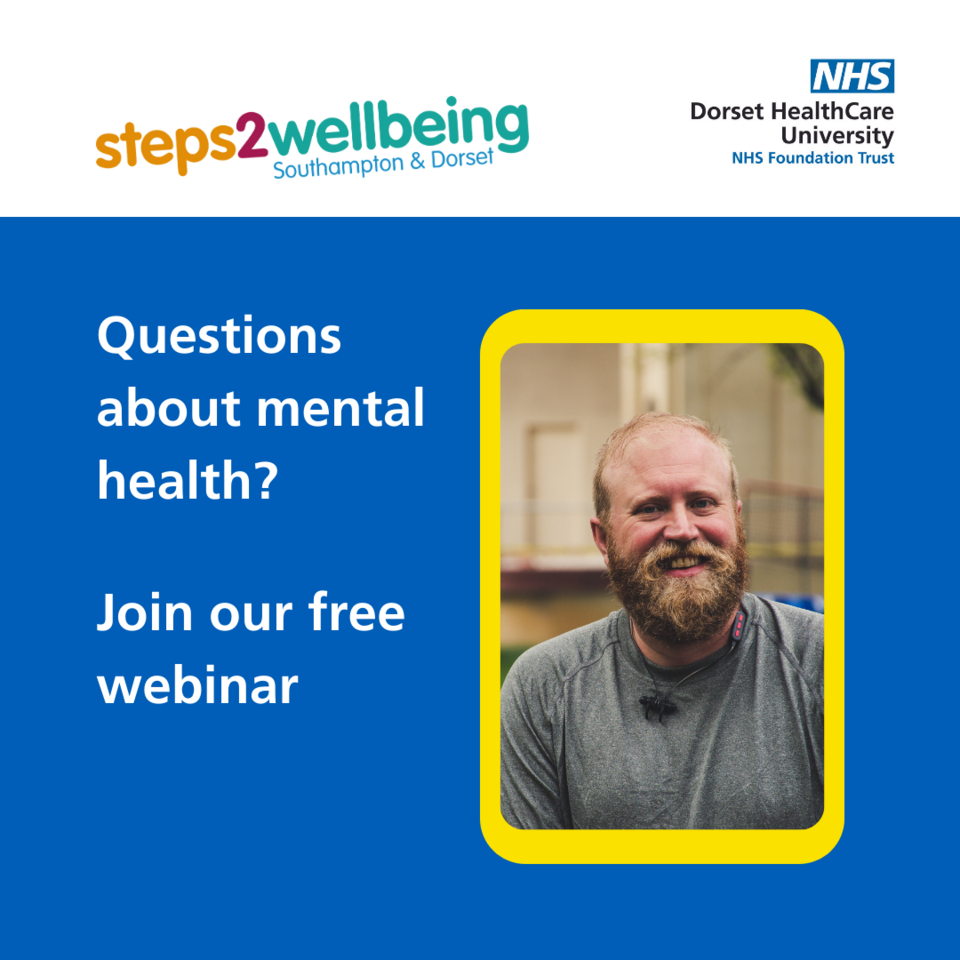 Tuesday, 19 September 2023
S2W launches free mental health webinars
Accessing mental health support can feel intimidating, and people are often concerned about waiting for treatment or are not sure how talking therapies can help them.
Starting on 29 September, we are launching a series of free webinars to provide information on the symptoms of anxiety and depression, and how to recognise them.
The webinars are for people over 18, registered with a GP in Southampton, who are feeling down, stressed, or worried. Friendly, professionally trained staff will cover what treatments Steps2Wellbeing offers and how people can access this support.
During and after the webinars, people also will have the opportunity to ask questions anonymously.
The webinars will run every two months, taking place on:
Friday, 29 September from 2.30pm

Friday, 24 November from 2.30pm
Anyone interested can access the sessions and check dates and times at: https://bit.ly/SotonFreeWebinar
Emma Spencer, Central Locality Manager at Southampton Steps2Wellbeing, said: "This introductory webinar is an opportunity for people in Southampton to find out more about NHS Talking Therapies, and how to identify if they do have symptoms of anxiety, depression, or both.
"Anxiety and depression are very common mental wellbeing issues, but sometimes people don't recognise that they are having symptoms. Feeling overwhelmed and irritable, changes to your sleep, not doing things you enjoy, or feeling down or hopeless are all symptoms.
"The good news is Steps2Wellbeing can help you recognise these symptoms and find ways to manage your thoughts, feelings, and emotions to improve your mood and mental wellbeing.
"It's important to access support early before these symptoms get worse. This webinar is a great front door to our service and a chance for people to ask us questions directly."
Steps2Wellbeing patient, Christopher Langston, 51, from Southampton said: "I was first referred to Steps2Wellbeing, after visiting my GP for anxiety and depression.
"I wanted to understand how I could manage my condition, and the group sessions explained clearly what causes anxiety and how to deal with it. I am still using these techniques today.
"I referred myself for a second time after a relapse in my mental health. Steps2Wellbeing spoke to me with empathy and understanding and I immediately felt supported.
"I was offered several treatment options from CBT (Cognitive Behavioural Therapy) to face to face counselling. I was given the opportunity to ask questions and find solutions for myself, without being judged.
"I would highly recommend taking that first nervous step to making a phone call for help, as it instantly felt like a weight of my shoulders."
Steps2Wellbeing is a free NHS service run by Dorset HealthCare, and people can refer themselves anytime online, over the phone or using our friendly digital assistant Wysa. You can also ask your GP or healthcare professional to complete a referral form for you.
Refer yourself to Steps2Wellbeing here.